The core of the TradeBase MX platform controls message routing, regulates user access rights and connects all trading interfaces.
The TradeBase MX Core System represents the central unit of the platform. It enables the routing of orders, the distribution of market data and the management of access rights. At the same time, it is the central element in the connection of different options for placing orders and connecting marketplaces.
Efficient and Secure Order Transmission
Regardless of the order entry system, all orders entered in the software are translated into a uniform format and stored in a central database. Each order entered into the system can be analyzed and modified in real time in the TradeBase MX frontend. Depending on the use case, changes can be limited to specific users.
Every order placed can be pre-checked by the proven tick-TS risk system to prevent an order from appearing in the market in the first place. (Pre-Trade Risk Check). In addition, each order placed can be examined retrospectively to warn the trader or his supervisor that the allowed position size might be exceeded. Depending on the user, trading can be restricted to certain trading venues or asset classes.
Any order that has successfully passed through the TBMX risk system may be forwarded to trading venues and brokers connected to the client. This forwarding is done on behalf of the client. The combination possibilities are endless.
Wide-Ranging and Synchronised Order Transmission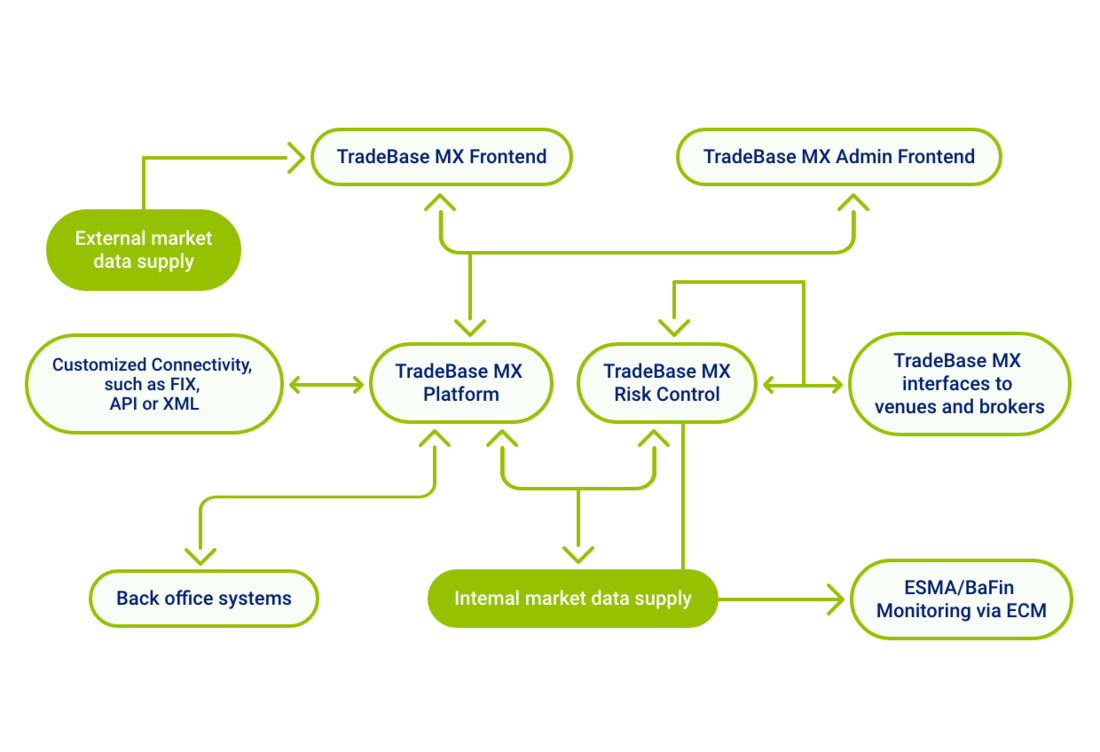 TradeBase MX FIX Engine
FIX has long been considered the industry standard for trading and back-office applications. With the proven TBMX FIX Engine, clients can connect their existing trading applications to the TBMX platform or customize the engine to easily connect additional trading venues or brokers. HSBC Germany, ABN AMRO Clearing Bank, UniCredit Germany, Citibank, XETRA, EUREX, Börse Wien, Euronext Cash and many others are already connected.
Broker Connections
TradeBase MX platform offers efficient ways to connect with many brokers and prime brokers, including HSBC, ABN AMRO Clearing, CitiBank, UniCredit, BNP, etc.
Connections to Markets
In addition to the option of implementing the market connection via a broker, a large number of interfaces are available to connect markets directly with their own licenses: including XETRA, XETRA 2, EUREX, Euronext, LSE and many others.